materials
We strive to use as much as possible of what is available around us. Upcycling used materials is most important to us. But to keep our quality up high as possible we also have to use new materials like the lining for our bags or the buckles of our caps.
Our materials which aren't recycled, like wax cotton or corduroy are all cotton based & öko-tex standard 100. Except for some small details on our bagpacks (vegan version available) all our products are also completely vegan & cruelty free.
products
In our shop you can choose between ready made items (unique pieces) / in stock products or you can get your product made on order with our pre order option.
Unique pieces are in stock & ready to get shipped.
Pre order products are made on order (custom pieces).
Pre order products are usually made within 2 weeks, depending on the size of the order & the current order situation. In most cases quicker.
To avoid over-production we make most of our pieces on demand. In the size and style you wish.
Additional to the unique pieces in our store, we always have a huge variety of items in the shop that are not displayed online, and often gone before we get the chance to upload them here.
Whatever happens to any of our products, we're always happy to help & fix it... just shoot us an email with a picture of the problem or come around and show it to us.
We want you to enjoy & wear our creations as long as possible.
shipping & return
We ship worldwide. Depending from where you placed your order and what way of shipping you choose, shipping usually takes between 2 and 14 workdays.
National shipping in Germany with DHL takes approx. 1-3 workdays.
Shipping inside the EU with DHL takes approx. 3-7 workdays. (Deutsche Post / DHL - tracked) 
Worldwide international shipping takes usually 5-14 workdays. (Deutsche Post / DHL - tracked)
Especially for non-EU shipping:
If you choose standard shipping with DHL, it can sometimes take a little longer than DHL states due to customs clearance at the borders. Unfortunately, we have no influence on this process.
For faster delivery, we recommend shipping with UPS.

All stated shipping times are information of the parcel companies, unfortunately we have no influence on possible deviations from this.
Final shipping costs are calculated during checkout. For more information please check our shipping policies.


Germany: 4,99 Euro
free shipping from: 100 Euro
EU: 8,50 Euro
free shipping from: 150 Euro
Rest of the world: 12,50 Euro
free shipping from: 200 Euro
Of course you can return every item, especially when your hat doesn't fit, we're happy to exchange it for you!
But please bear in mind, that we customise most of our products specially for you. So try to measure and choose as good as possible!
For the return of pre-ordered products, we reserve the right to retain a fee per product of the order in the amount of 10% on the purchase price for manufacturing.
Before you want to return your order to our shop, please send us an email to captncrop@gmail.com and we will send you instructions on how best to proceed!
In any case, please attach a note or the order confirmation to the package so that we can assign the package in case of return. 
For international returns, please note that you must indicate on the package that it is a return shipment.
For further & detailed information please check our return policies.
sizes & measurements
A flexible measuring tape as is customary for sewing is best suited to measure the head circumference. In case of need, however, a piece of twine can also be used (these can be simply lead around the head and then measure with a normal measuring tape /ruler).
Then face a mirror. Fix the front end of the measuring tape in the middle of the forehead & put it just above the ears once around the head. The tape measure should just be as thight as you want your hat to be.
If you want to be safe, you can add an extra 0,5 cm-1cm.
Customising
We can make any product from almost any fabric. So if you see a fabric online on a certain product, we can probably make it with another item as well. Just ask us, we're happy to help!
Depending on what & how much you ordered , the production usually takes 2-4 workdays. In very busy times it can take a bit longer though. Thanks for your understanding!
Not sure if it will be at yours in time? don't hesitate to ask us about the approximate production time!
Custom works
Every product we make, we can fully customise for you. Choose your size,  your favorite fabric or any extra feature... we're happy to make your ideas come true!
custom works
in store
Except for our unique pieces, every offered product is made on demand. Once you place your order we take the fabric out of our shelves and start making your ordered item.
In our Berlin store you can browse through the endless depths of our fabric storage until you found your perfect match; or just bring your own fabric, whether you want a cap from your beloved shirt or your grannys old sofa.
online
custom works
Online, we selected some of our best fabrics for every product already. Materials that are working well and look good due to the size of the pattern, thickness, durability and other needs in terms of style, quality & functionality.
But of course we can make almost any product from almost any fabric. So if you see a fabric online on a certain product, we can probably make it with another item as well. Just ask us!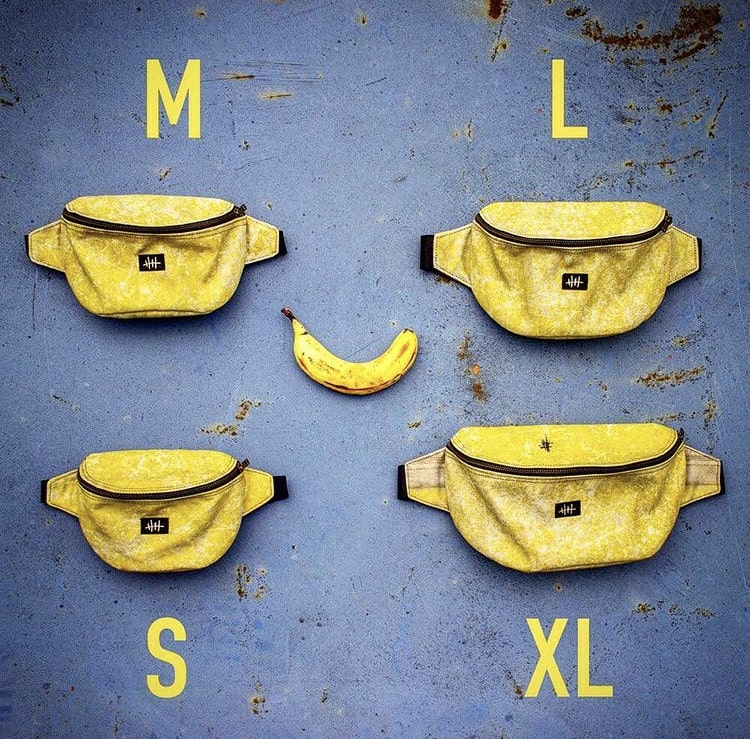 Sizeguide
 We offer all our products in different sizes.
And in case you're not sure what size you want or need, in our online shop every product we customise has an extra info about the measurements and optional sizes.
Our Bum Bags are offered in 4 sizes, our backpacks in 3, our caps from XXS to XXL & the hats in any size you need!
vouchers
If you do not know your friends head size, or simply can't decide, just give away one of our handmade vouchers from old wooden boards.
Come visit us in our store and "load" the voucher with an amount of your choice & hand it out to your friend.
If you can't to make it to our studio, we also offer digital giftcards for our online shop.